Lewisham NordicWalking is perfect for those that want or need to get more active! It is simpleto learn, suitable for people that have been inactive for a while. NordicWalking is gentle, not intimidating and does not appear too much like conventional'exercise'. It is a great way to gently encourage full body movement, whilstthe poles help to reduce pressure on your knees and joints and propel you along,making it feel easier than it really is! By using the poles, you use moremuscles, significantly increasing the calories burned without making you feelyou are pushing yourself too hard. You don't need to get changed or work hardenough to feel uncomfortable, sweaty or out of your depth.
BLewisham NordicWalking is a fantastic, motivating workout. It can be done at any level,including beginners, the elderly or unfit! Our aim is to support people toreach the recommended level of Physical Activity (150 minutes moderateintensity physical activity per week) So our sessions are aimed at Lewishamresidents who are not achieving this level and want to get more active.

The programmes weoffer start with 'Learn to Nordic Walk' – Four sessions to learn the techniquewith an instructor. To get the most from this FREE course it is important that you attend all the sessions. The'Learn To' sessions and follow on sessions are FREE.Walkingpoles will be provided for these sessions.
After this, if you need it, you can get more support from an instructor until you are confident with the technique. Then you can continue to enjoyNordic Walking in a group with a trained volunteer Nordic Walking leader. Thesesessions run alongside the instructor led sessions. Some poles will be available,but we encourage you to buy poles at a discount from Nordic Walking UK. You can then walkmore at other times, or if you wish to go further, our instructors offer theirown paying sessions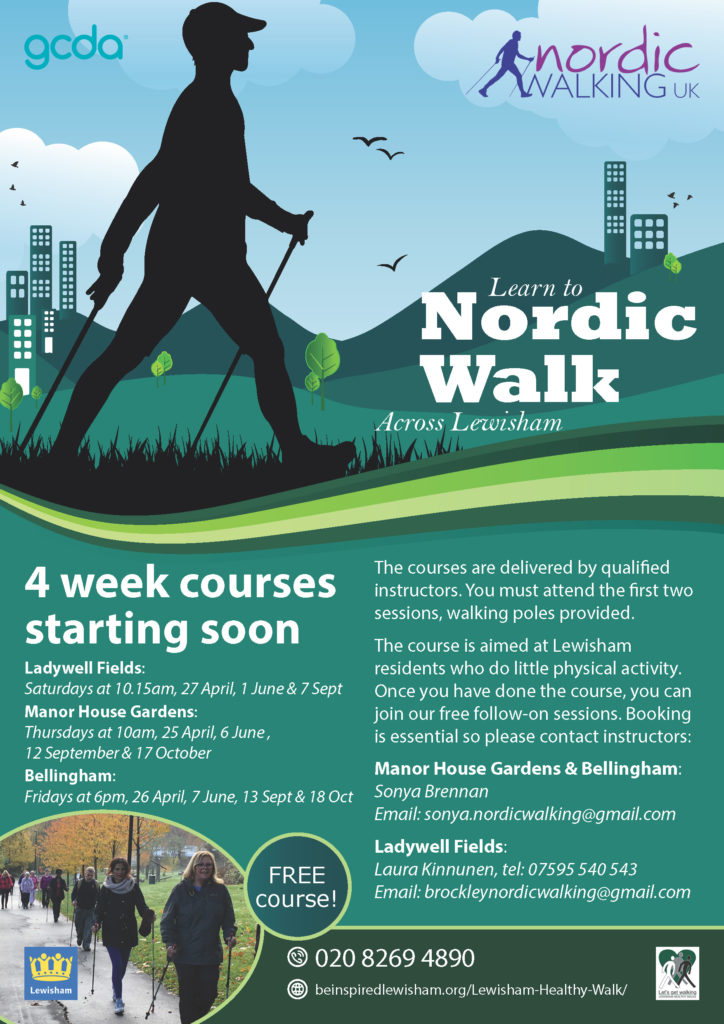 Learn to Nordic Walk in Ladywell Fields with Laura – places available!
Courses start on 27th April, 1st June, 7th September 10:15 – 11:15 am (every Saturday for four weeks)
To book a place email brockleynordicwalking@gmail.com
Learn to Nordic Walk in Manor House Gardens (Lee Green) with Sonya – places available!
Courses start on 25th April, 6th June, 12th Sept, 17th Oct 10:00 – 11:00 am (every Thursday for four weeks)
To book a place email sonya.nordicwalking@gmail.com
Learn to Nordic Walk in Bellingham with Sonya – places available!
Courses start on 26th April, 7th June, 13th Sept, 18th Oct 6:00 – 7:00 pm (every Friday for four weeks)
To book a place email sonya.nordicwalking@gmail.com
For further info please Contact Jenny Budd (Lewisham Healthy Walks Co-ordinator)
Tel: 020 8269 4890
Email; healthywalks@gcda.org.uk